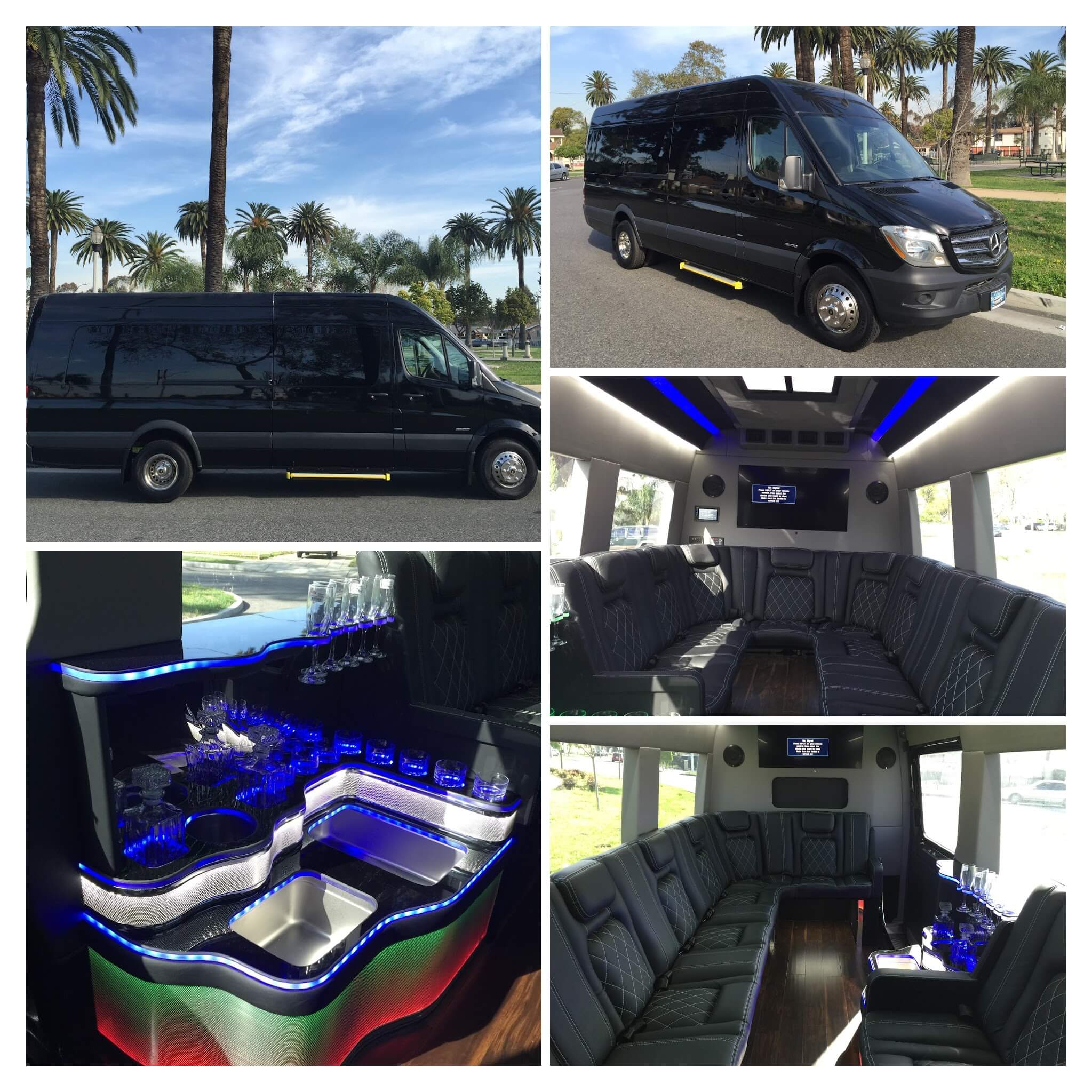 Sprinter Vans
Sprinter Vans becoming new standard for limousine companies is what this article is about. Times have changed and the demands of customers move forward in the transportation industry where clients seek roomier interiors.
I myself  can't understand how we go from extending the body of an exotic luxurious car, and then just ride in a van. Then again, that's just my opinion.
Mercedes-Benz has always been synonymous with luxury in the car business so I can see the appeal. Mercedes Van's can transport 12 to 14 passengers in luxury and comfort. However, please note that the 2017 Mercedes Benz Sprinter does not offer a luxurious interior in their own Van Lines. They only offer the cargo model and we make that into a limousine.
     Sprinter Vans – Transforming The Interior
A builder like American Limousine Sales, can transform the interior into a private jet style luxurious interior with amenities. This can't be compared with today's automobile Marketplace. The changes slowly started happening when more celebrities where spotted exiting  luxurious Mercedes-Benz Sprinter Van's. Now the Mercedes-Benz Sprinter Van has started gaining popularity due to the interior height and width. You are able to accommodate more passengers and offer clients amenities that weren't available in traditional limousines. Amenities like high definition LED flat screens, heavy powered air conditioning, and heating systems. Also, the ability to stand up inside of a Sprinter Van, is a major factor.
One of the major benefits of the Sprinter Van is seating. The 2017 Mercedes-Benz Sprinter gives you the ability to sit across from each other without being uncomfortable. In my opinion the downfall is the Sprinter Van is very bulky and square looking. It's top-heavy, and not exactly an easy vehicle to find parking for. However its popularity in the industry has surpassed any other vehicle.  I love the idea of celebrities riding with their entire entourage in one vehicle with room for luggage. But still the unpredictability of the diesel 3.0 Bluetec engine is something to consider when buying this expensive piece of equipment.
     New Coach Builders Are Using More Modern Sprinter Van Designs
There are few manufacturers that offer the Mercedes-Benz Sprinter Limo Vans and some are more expensive than others. Like the pioneers of the Sprinter Vans, Lexani Motorcars, and Becker Automotive. They sell those vehicles for upwards of $250,000. It makes it very difficult for any limo operator to afford one to offer to their clients. However slowly, but surely, new coach builders are using more modern designs and gaining more experience in building limousine interior.  Builders of the Mercedes-Benz Sprinter Van have stepped into the game offering a diversified product with new price tags favoring the average consumers.
The comparison of a luxury vehicle such as a Range Rover or Mercedes-Benz S-class wood equal the price of Sprinter Vans. The appeal, and the demand is definitely there. But the best place to buy the vehicle is in Los Angeles California at American limousine Sales. They're offering the best in luxury and selection as well as door-to-door service.
In conclusion, it is clear to me that Sprinter Vans are becoming the new standard is really here now and it's welcomed.