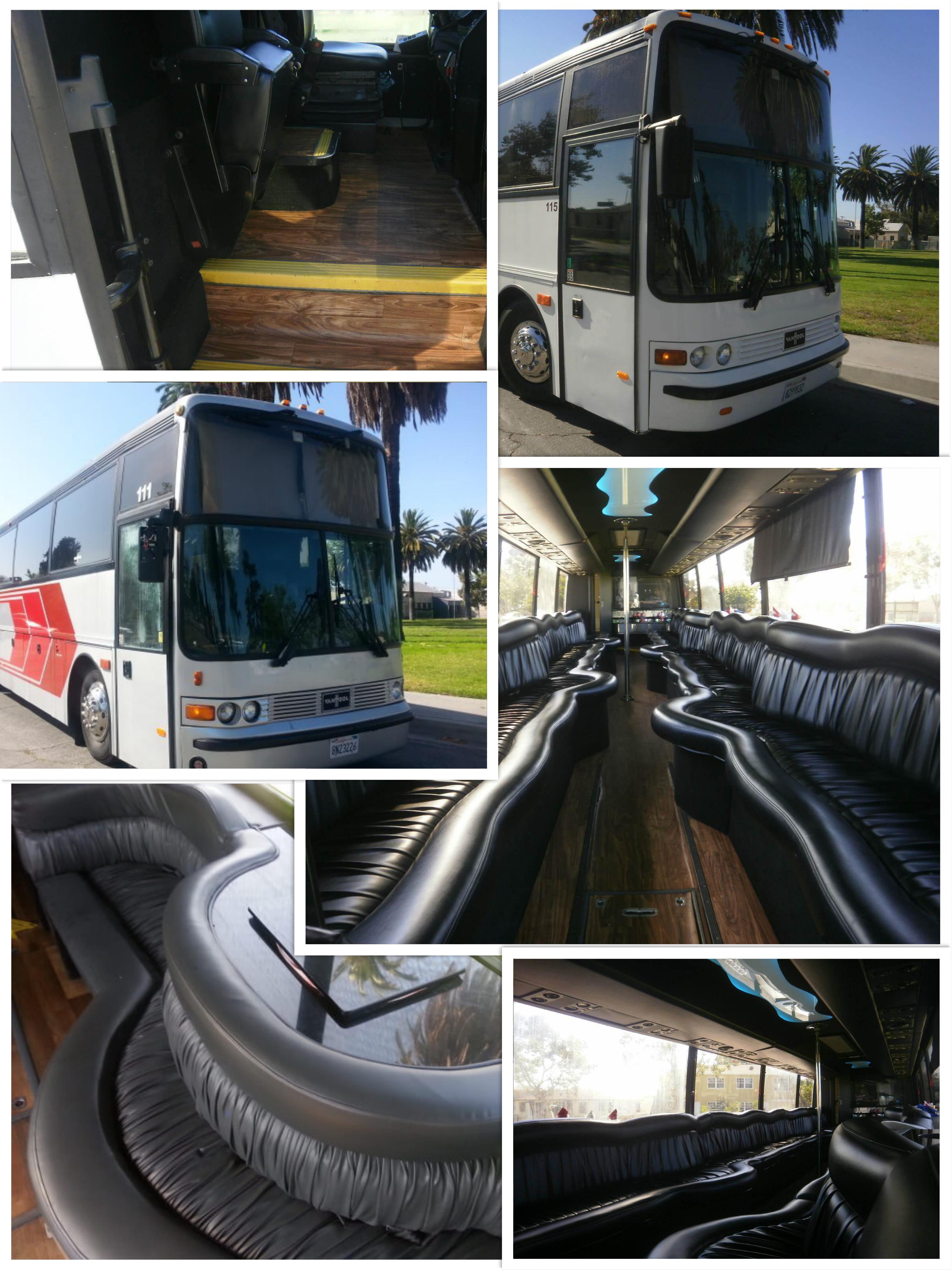 Limo Buses For Sale
The Van Hool Company was founded in the early 1940's by Bernard Van Hool. The Coaches it manufactured enjoyed lots of success in the transport industry enjoy market dominance throughout the 40's to the 50's under
Van Hool-Fiat. In the late 1950's, the buses came into commercial production.
They were equipped Fiat engines and transmission systems. The coaches experienced phenomenal growth once they were introduced into the American market and eventually became a favorite due to their durability and resilience not forgetting their exceptional performance. They have retained their momentum and are still top of the list in the travel bus industry.
As the adage goes first never follows. For this reason, we strive to always be the leaders. At American limousine sales, we offer you best of the best in terms of limos. At our dealership, we have numerous Van Hool Limos for Sale. We will give you a great deal on any Van Hool limo for sale. Van Hool party buses are the ideal party buses for this generation.
Built by Van Hool, this limo party bus is fitted with a powerful Cummings Turbo diesel engine. All other mechanical parts are sourced from reputable dealers including Caterpillar, and Man for durability. These buses are very ideal for you if you are planning to host a mid -sized party while on the move. Our well thought out payment plans makes it easier for you to realize your dream of owning a fantastic party bus.
The van Hool tour bus for sale features high-performance utilities such a powerful such as an automatic transmission, air brakes, and air suspensions. These features allow it to take off and move smoothly. You won't even notice you are on the move once you get into the cabin. Due to excellent sound and vibration proofing, the coach is extremely quiet despite the limo party bus having a big powerful engine. It is free from any irritating engine noise that would distract your ongoing party. Riding on this limo is as comfy as
cruising on a first class flight.
     Van Hool Bus For Sale at American Limousine Sales
The custom limousine's with adequate dancing space interior is spacious and an overhead storage compartment that allows you to conveniently carry luggage. A disco ceiling with star lights creates the perfect club atmosphere to kick start the party. A hardwood floor and well-designed mood changing LED lighting system also works to ignite the partying mood in the cab. Here you will find used coach buses for sale.
A surround-sound stereo system with CD/DVD player will deliver you and your crew quality music to rock the place. The upgraded stereo on this party bus has touch screen control, and USB hook up for iPod and MP3 player allowing you play your tracks directly from the music library of your
portable device. The system is attached to a 42-inch flat screen TV mounted on the rear.
The bus has two customized suits. The first is designed with led lighting and a charcoal black/carbon fiber silver interior. Custom window posts with led light and a black suede finishing complete the class in this 5-star suit. The second suit features light gray and a carbon fiber white interior with color changing lights and lasers.
Designed with plenty of space, the second suit engulfs a full custom bar on the rear with cup holders, ice
bin. The luxury bus can comfortably accommodate up to 50 passengers. With consideration of these numbers, the engineers have fitted the suits with heavy duty air conditioning all throughout.
This will make sure temperatures within the bus is always kept in check. The best part of all features on this bus is the stripper poles; the bus if fitted with two stripper poles, each in each suit. These stripper poles are for the freaky passengers who your party time to the next level. Whatever the party, we got you covered in any buses with this features and much more.
The exterior of this party bus is an exact image of the first Van Hool coach bus which was on the roads many decades ago. It is a trademark coach that has and will always be an impressive icon the American roads. Having totally raised the bar in the luxury coach travel industry competing party buses have a lot of catching up to do.
Forget expensive! Don't pay more for less quality. At very suitable terms and low prices, we offer these Van Hool party buses for purchase on prices as low as $34,995. If you opt for a lease to own arrangement, then look no further that our dealership. We will offer you unbeatable lease to own terms. Our lease option includes a down payment of $16,995 that is due at signing followed by $588 as installments for the next 48 months. All our pricing is exclusive of sales tax and registration expenses.
     Why choose American limousine sales?
Our dealership serves the American market with much attention to customer satisfaction. We deal in both new and used limos for and party buses suitable for your party needs. Our team of engineering experts works diligently on customizing the limos to include all features specified by our clients and make sure the company safeguards its excellent customer service record.
Visit us and find yourself a limo that satisfies your needs, and makes your friends envious. Do not just roll out in any party bus; roll out in this great Van Hool party bus. All our Van Hool buses are in very road worthy condition and ready to hit the road at the get go. Yes used buses for sale right here.
The Van Hool party buses at our dealership have a mileage not exceeding 400, 000 miles and are well maintained. You can be sure that the bus will not go too hard on your pocket regarding maintenance and repairs. It will still deliver you to your destination without hiccups.
Should you have any questions, please feel free to Call: (310) 762-1710 or text Richard 424-258-5617.