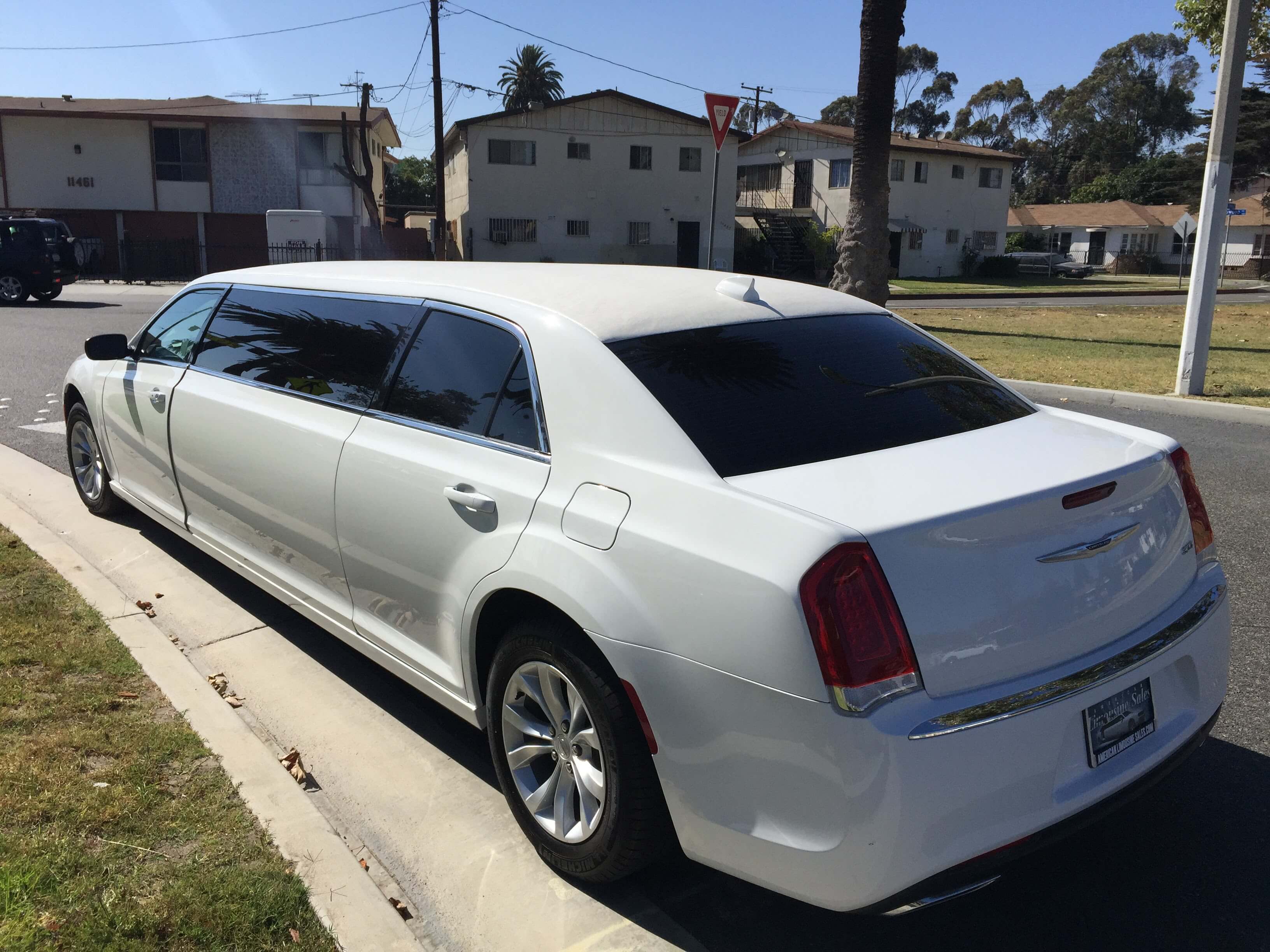 American Limousine Sales is a renowned builder and seller of limousines. We stock limos from all the major limousine brands in America. Years of experience in the limousine sales and building industry has made us the ideal limousine builders and sellers we are today.
The limousines we build are state of the art and boast of modern luxury features. We have plenty of new and used limos for sale at our dealership.
The Chrysler 300 limousine is one of the great limos you get in our yard. A Chrysler 300 limousine is a luxurious vehicle that we stock due to its high demand. Americans love the Chrysler 300 limousine that's for sure. Numerous clients inquire from us about any Chrysler 300 limo for sale every week.
These numerous inquiries are a clear indication that the Chrysler 300 Limousine is an excellent vehicle for gigs and parties. The liking Americans have for the Chrysler 300 limousine is to a great extent influenced by its sleek physical appearance.
     Chrysler 300 Limousine For Sale Is Waiting For You
Its 20-inch chrome wheels, stylish Bentley grille, well designed exterior lights and curvy body all combine to create an amazing vehicle that commands more respect and recognition than most other SUV's in the market. Any Chrysler 300 limousine for sale at our dealership has a lot to offer.
Its posh interior competes very favorably in the stretch limo world. Rivals have a lot to learn from the interior build of the Chrysler 300 limousine. It is one of the few limos that have interior strobe lights with a choice of up to twelve colors. These lights come as an addition to the existing mood changing LED lights mounted on the ceiling and bar edges.
The Chrysler 300 limousine for sale also boasts of one of the best bar-seat configuration in the limo world. The bar fits the entire length of the J-shaped seat. This means that the bar is a large one, not the squeezed miniature bars found in some limo models.
The bar also features large ice bins, tumblers and champagne wells. It can serve the ten passengers the limo is designed to accommodate with drinks for a long time. Stylish Champagne glass holders and LED lighting on the edges of this bar add to its glory. Buy Chrysler 300 limo from our dealership and get to enjoy what this bar has to offer.
     Chrysler 300 Limousine For Sale With Entertainment
Entertainment is another front where the Chrysler limousine for sale beats tramples on competition. The Chrysler limo for sale is equipped with a robust music system with surround.
A DVD/CD player with stereo connects to this system and keeps the cabin of this Chrysler 300 limo for sale supplied with quality music full time. Five modern mid-sized LCD screens supplement this music system. Your passengers would not want more entertainment above what this cabin offers. The entertainment system on the 2008 Chrysler 300 luxury limousine has Bluetooth and iPod connectivity.
It comes with a built internal storage on which you can store thousands of audio and video clips. The Chrysler 300 2008 price is only $ 29,995 cash. There is also the option of acquiring it on a lease to own finance arrangement that entails the payment of a down payment of $ 9,995 followed by 48 monthly installments of $ 649.The 2008 pink 140 inch Chrysler 300 limo for sale has a single window conversion that further heightens its uniqueness.
A full-length divider window separates the front and rear cabins for privacy. This custom-built limo for sale also comes with a hard metallic roof that is better than the vinyl roofs found in most limos. This minimizes maintenance costs that arise due to vandalism of vinyl car roofs which is not uncommon in America. The suspension and shock absorption in this limo is also excellent. A ride in it is smooth all along.
     Start Your Business Today
At American Limousine Sales you are guaranteed of irresistible deals on The Chrysler 300 Limousine for sale. Like most other limos we stock, our Chrysler 300 limos are tested to sure that all the gadgets are working. Buying a Chrysler limo is a major investment, and we would not wish any of our customers to have a problem-riddled Chrysler experience.
Any gadget or performance spec found wanting is worked on by our experienced limo technicians before the limo is handed over to the final customer. Before you drive your Chrysler away from our dealership, you are given ample time to check the interior and exterior as well as take the engine for a test drive and check that every gadget lives up to your expectations.
Buy Chrysler 300 limo from us and you will enjoy a long period of peaceful partying without the inconveniences of having to regularly visit the mechanic.American Limousine Sales is not a haven for used Chrysler limousines. We also stock new Chrysler limousines.
You can buy new limousine from our dealership on the same finance options you have for a used Chrysler limo. You have the option of paying cash for that new Chrysler limo or acquiring it through the lease to own financing option. It is not many dealerships that sell high-end vehicles such as Chrysler limousines on this lease to own finance option due to the risks involved with such high-end cars.
Insurance is one of such risks since most limousines are built by builders who are separate from the manufacturers of the engine and chassis. Insurers are very cautious when it comes to limo insurance. However, at American Limousine Sales you get the opportunity to own a Chrysler limousine on this flexible finance option.
We also are experienced limo builders. If you want to have a custom made limo, then we are here for you. Your input will be highly valued as we build your limo to ensure that you get just what you want in the limo. Do not let this chance to own a limo pass you by.
Give us a call on (310) 762-1710 or text Richard 424-258-5617 for more information.