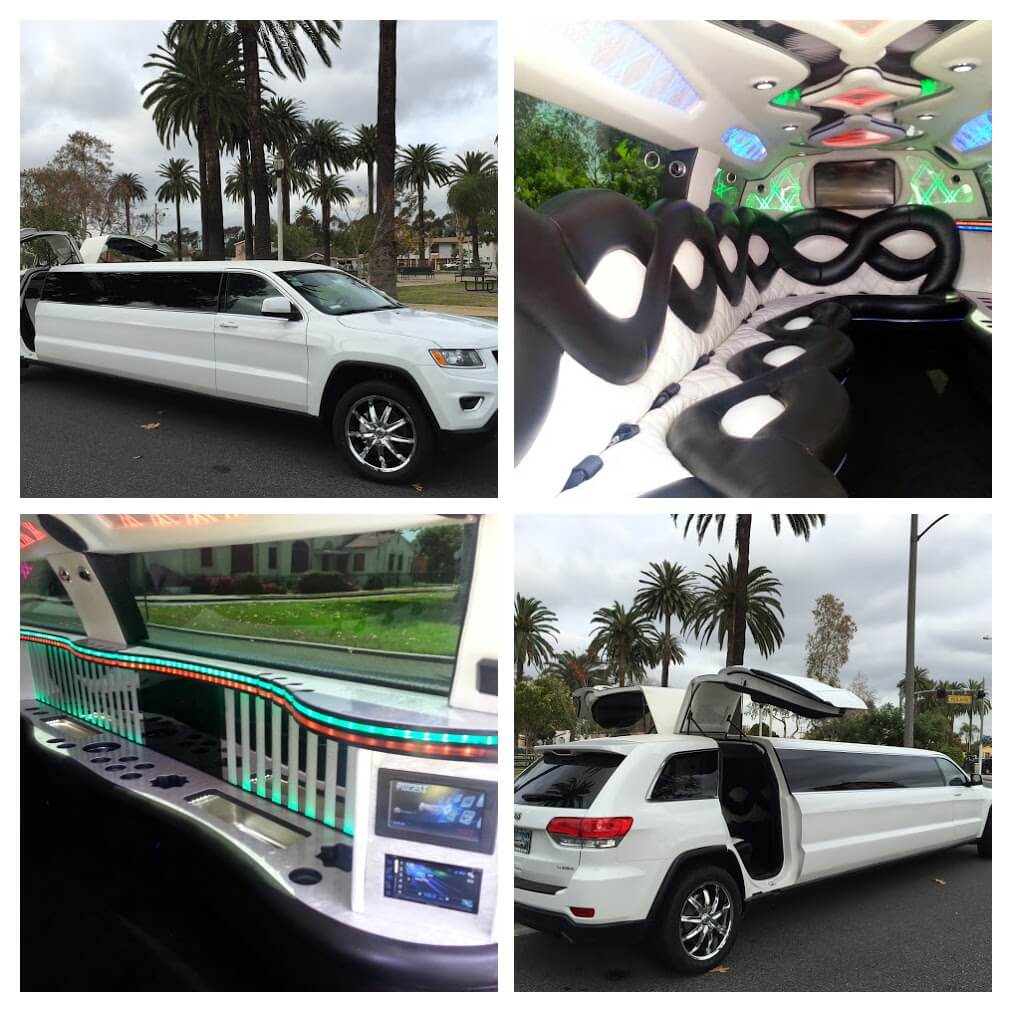 Jeep Limo For Sale
We stock limos from all the major limousine brands in America. Years of experience in the limousine sales and building industry has made us the ideal limousine builders and sellers we are today. The limousines we build are
state of the art and boast of modern luxury features. We also build limousines from scratch and upgrade old ones at the request of customers.
Jeep is a distinctively American brand that major in the manufacture of cars, SUV's, mid-sized trucks. Anytime you consider buying a vehicle with excellent Off-road capabilities to enable you to cruise through rocky trails or steep slopes we are sure Jeep comes to mind as one of the most plausible choices.
Jeeps are rugged making them the ultimate choice for those Off-Highway adventures. They come with numerous features that adapt them for off-roading. Jeep's history of manufacture of high-quality SUV's can be traced to the WWII where the name Jeep took root as a manufacturer of iconic four –wheel drive military vehicles for the U.S army.
The actual origin of the name remains a mystery, but popular belief holds that it was coined from the word General Purpose a term that accurately depicts Jeeps. Jeep falls under the Fiat Chrysler Automobiles group which is a holding company for the Former Chrysler Corporation. It's expected that Jeep's outstanding track record will not only maintain its group of loyal customers, but it will also attract new fans.
     Jeep limo for sale at American Limousine Sales
The 2015 Jeep Cherokee Limo is one of the great limos you get at our yard. There is no doubt that it is a luxurious
vehicle. It is a vehicle that is deeply entrenched in the hearts of Americans for we get numerous inquiries from customers. Such extensive inquiry shows that this limo is great.
Those who have sampled it find it irresistible. It is a vehicle many people dream of owning. It's rugged and strong exterior to a great extent influences the recognition and liking this vehicle enjoys in the streets. It's less curvy body and large 20-inch alloy chrome rims give it a serious look that commands respect in the streets.
The 2015 140 inch Jeep limo for sale at our dealership has a myriad of features that make it the ultimate limo for you. One of this features its large size of 140 inches that makes it capable of accommodating 12 passengers and still save some space for a large cargo hold at the back. Full-size gull wing vertical doors, single window conversion and a vinyl top add to its list of unique features.
Inside the white and black interior, you get color LED coach lights, a custom bar, 7 inches modern stereo radio with CD/DVD and a 23-inch flat screen TV. The stereo on this coach has blue tooth and connects to robust Rockford Fosgate 3×5 with an inbuilt 12-inch sub-woofer.
The custom bar features dual stainless steel ice bins, champagne well, and champagne glass holders. robust a/c and heating systems makes the cabin, even more, juicer. They ensure that you and your passengers favorable interior temperatures for different occasions.
This limo also comes with a hands-free intercom system. This limo is  at only $66,995 cash. There is also the option of owning it on a lease to own arrangement that includes a down payment of $19,995 and 72 monthly installments of $1249 each. Buy Jeep Cherokee limo today and get to sample what it has to offer in terms of comfort and entertainment.
Get to review jeep limousine in Los Angeles by visiting our dealership located at 5250 W. Century Blvd., If you want to purchase Jeep limo, and you would like something tough then go for the 2016, 70 -inch Jeep Latitude Limo on sale at our dealership. It is one of the best SUV limos for sale we have.
     Why shop at American Limousine Sales
At American Limousine Sales you also get amazing deals on Wrangler limos for sale. The Cherokee, latitude, and Wrangler limos we stock are tested to ascertain that all the gadgets are working. Buying a limo is a major investment, and we would not wish any of our customers to have a misery riddled Jeep experience.
Any gadget or performance spec found wanting is worked on by our experienced limo technicians before the limo is handed over to the final customer. Before you drive your Jeep limo away from our dealership, you are given ample time to check the interior and exterior . Take the engine for a test drive and check that every gadget lives up to your expectations.
We are experienced limo builders. If you want to have a custom made limo, then we are here for you. Your input will be highly valued as we build your limo to ensure that you get just what you want on the limo. Do not let this chance to own a limo pass you.
Give us a call at (310) 762-1710 or text Richard 424-258-5617 for inquires.