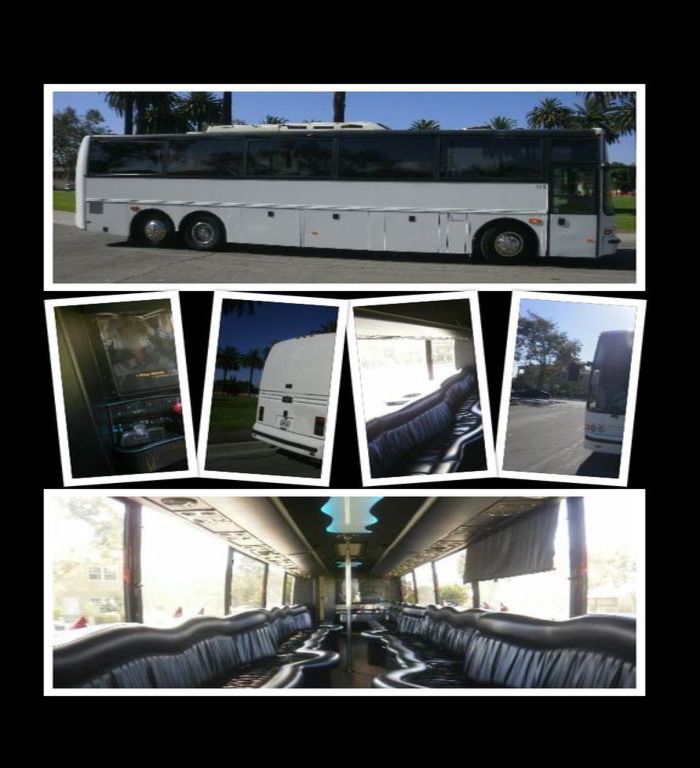 Bus For Sale
There are those moments in life that merit a party or a gig. Imagine failing to throw a gig during your birthday. That would be awful. Since we only live once, a little partying with friends once in a while would do us no harm. In-house parties have a tendency of being boring when they become too regular. It is wise to hold out of house parties to avoid the monotonousness of in-house parties.
A party bus is a perfect remedy for this; it enables you and your friends to hold gigs while on the go. You can move from one place to another while still having fun on the party bus. You have the option of holding that party away from town. A party bus would be perfect for a
beach party for example.
At American Limousine Sales, we have party buses for you. Our party buses are not merely party buses; they are luxury party buses. In case you are in search of a luxury party bus for sale then relax, and give us a call. We guarantee you a great deal on the party bus for sale that will appeal most to you from what we have in our
inventory.
We have many years experience in the luxury party bus industry and thus properly understand the interests of our customers. We offer the much-needed transport solutions for you. We also customize motor coach buses for interested customers.
     Luxury Party Bus For Sale
We fit all our buses with the best entertainment and luxury gadgets to make your parties thrilling and memorable. Look no further than us if you are in need of a custom party bus for sale. Introducing the Van Hool party bus that can comfortably accommodate up to 50 passengers in a luxurious 2-party suit design, we are dedicated to ensuring that you get the best partying experience ever.
With this bus, you get the convenience of traveling together with your best friends and having unlimited fun. Unlike a stretch or SUV limo that limits the number of friends you can party with to a maximum of fifteen, this party bus enables you to party with up to fifty friends.
Imagine you and fifty of your best friends sipping champagne and your favorite cocktails at the comfort of premium leather wrap around seats listening to your favorite tunes on from a robust music system. Now stop imagining and tell us how the experience was, wasn't that just the life you dream of?
We are here to make that dream come true by offering you a Van Hool Party Bus at an affordable price of only $41,995 with the option of a lease to own financing. This and other luxury party buses we have in stock never disappoint, when it comes to entertainment and luxury.
The buses are equipped with large bars with adequate space for your attendants to work out their cocktail magic, toss glasses and serve drinks with minimum hiccups. The buses also boast of spacious interiors with adequate spaces for dancing. With this adequate dancing space, you are free to show off your craziest dance moves. There is more these luxury party buses have to offer; they are fitted with stripper poles which come in handy when the party gets to the next level.
The stereo surround systems mounted on any of our custom party bus for sale are just excellent. With powerful mid-range speakers and sub-woofers strategically mounted on the cabin you get nothing short of the best regarding music quality. The Stereo systems on the buses have touch screen controls and have ports that enable them to connect to USB devices such as iPod's.
     Dual HD flat screen TVs
We could not forget to entertain your eyes as well. The buses are fitted with dual HD flat screen TV's. You can watch your favorite shows on the go through these TV's. Exceptional mood changing, fiber -optic lighting coupled with the diamond star lighting mounted on the ceiling ensures that you get just the best quality of light. For the utmost privacy in your travels, we have fitted our buses with dark tinted windows, noise mufflers and privacy dividers. Here you can buy at our motor coach buses sale online or in person.
Our buses are in totally road worthy. Our team of expert engineers works tirelessly to ensure that all the buses are fir for the road before they are given to the final customer. We guarantee performance on the road with any of our party bus. We fit them with powerful engines, air suspensions, air brakes and automatic transmissions for the best road experience. These rides will take you wherever the law allows them to. Vehicle breakdowns are never going to be part of your life if you go for the custom party buses we have for sale.
At American Limousine Services we serve all our customers with utmost care and respect. We are very considerate of our customers' needs and try our best to give them the most satisfactory services. We serve a considerable portion of the American market and have not had any major complaints so far.
You can choose from a stock both new and used limos/party buses to ensure that as our customer you get the vehicles you want. Review buses for sale by owner at our dealership and you are guaranteed to get one that matches your needs. Our unwavering commitment to serving our customers has made us a trendsetter in the limousine world. If you are interested in any of our buses, you can visit our dealership at 5250 W. Century Blvd., Los Angeles, CA 90045.
You can also give us a call us at (310) 762-1710 or text Richard 424-258-5617.