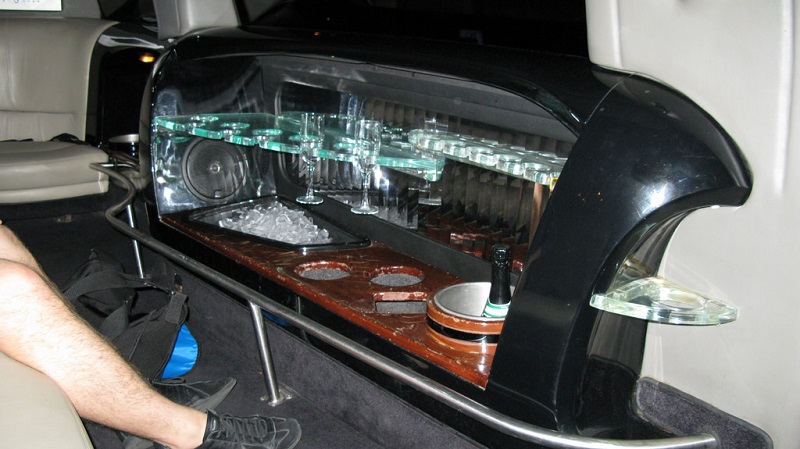 Some limo owners don't believe limousine accessories are that important. If the suit makes the man, then the accessories make the limousine. Without them, the limo is just a plain, long car. Who wants that?
It's time to accessorize for your new limo build. While this is only a short list of must haves, consider it a starting point for giving your passengers something fun, elegant and memorable. Most of these accessories can be found at  any limo parts suppliers. Be sure to ask for a limousine accessories catalog. As always, it's your build, so get creative and add as many limousine accessories as you need.
Limousine Accessories / Limo Parts
Branded Carpet Mats
You don't want the flooring you've had custom made ruined quickly. This is where branded carpet mats come in. These can be made to compliment your flooring, add some cushion for your passengers' feet and display your branded logo/name. It's small details like this that drastically help with branding. Plus, cleaning mats is much easier than trying to clean the entire floor.
You could add them later on, but during a custom build, fasteners are added to ensure the mats stay in place until you're ready to remove them. This prevents passengers from tripping.
Stylish Refrigerator
Having cold drinks and even snacks on hand is a must with a limo. A stylish refrigerator is one of the top limousine accessories. It should blend in perfectly with the custom decor. If everything else has wood trim, your fridge should too. You could even have it custom shaped to match with your limo theme, such as a waves or circles.
The last thing you want is to have your new limousine build ruined by a plain refrigerator. It'd be an eye-sore. Instead, customize it to make it look like just another stylish, yet functional accessory.
Custom Bar With Glassware
What's a limousine without a bar? Out of all the limousine accessories, make sure you have this one. Your bar is a chance to get highly creative. Play around with different shapes. Will your bar fold out or be visible at all times? Will it light up or not? The next question is how your glassware is stored. And yes, branded glassware does make a difference. It's a small detail, but the details matter.
Plastic cups are great for a party bus, but passengers expect a luxurious limousine to have actual glasses. Ensure your bar has sections to cushion and hold all your glasses.
Privacy Divider
Your passengers don't know the chauffeur. They might depend on the driver to get them to and from their destinations safely, but they probably aren't interested in chatting too much. Give your passengers privacy with a privacy divider that blends in seamlessly with the limo interior. Make it easy for both the chauffeur and passengers to lower and raise the divider when needed.
Parking Sensors
While your passengers might never know about one of these increasingly popular limousine accessories, your drivers will thank you. Let's face it, limos aren't the easiest things to park. Parking sensors make it easier for your chauffeurs to safely park and maneuver your fleet of limos. Make them a must have on all your new builds and even add them to your older limos.
     Fun Bonus Limousine Accessories
These limousine accessories might not be must haves, but they're still fun. For special occasion limos, such as those for proms and weddings, consider adding in a roll out red carpet. You could even add in a mini fog machine if your clientele is more party oriented.
Touch panel controls are a great limousine accessory for controlling various aspects, such as lighting and music. Speaking of lighting, adding in a lighted ceiling spices up the entire look of the interior. A soft light even works well for business limousines.
While weather usually isn't on your mind when planning your new limo build, your passengers' experience could be ruined if they're trying to get out in a downpour. California weather is always changing. Make stylish umbrella holders with branded umbrellas a part of your newest limousine.
Limousine Accessories Make The Limo
As you can tell, limousine accessories are vital to your limo's success. Carefully consider what to add and build them into your new limousine. When accessories are built-in, they look more stylish. This makes your limo see more elegant to your passengers.
Have your list of accessories ready? Contact American Limousine Sales today to get started on your new custom limo build. 
Image: grapefrugten