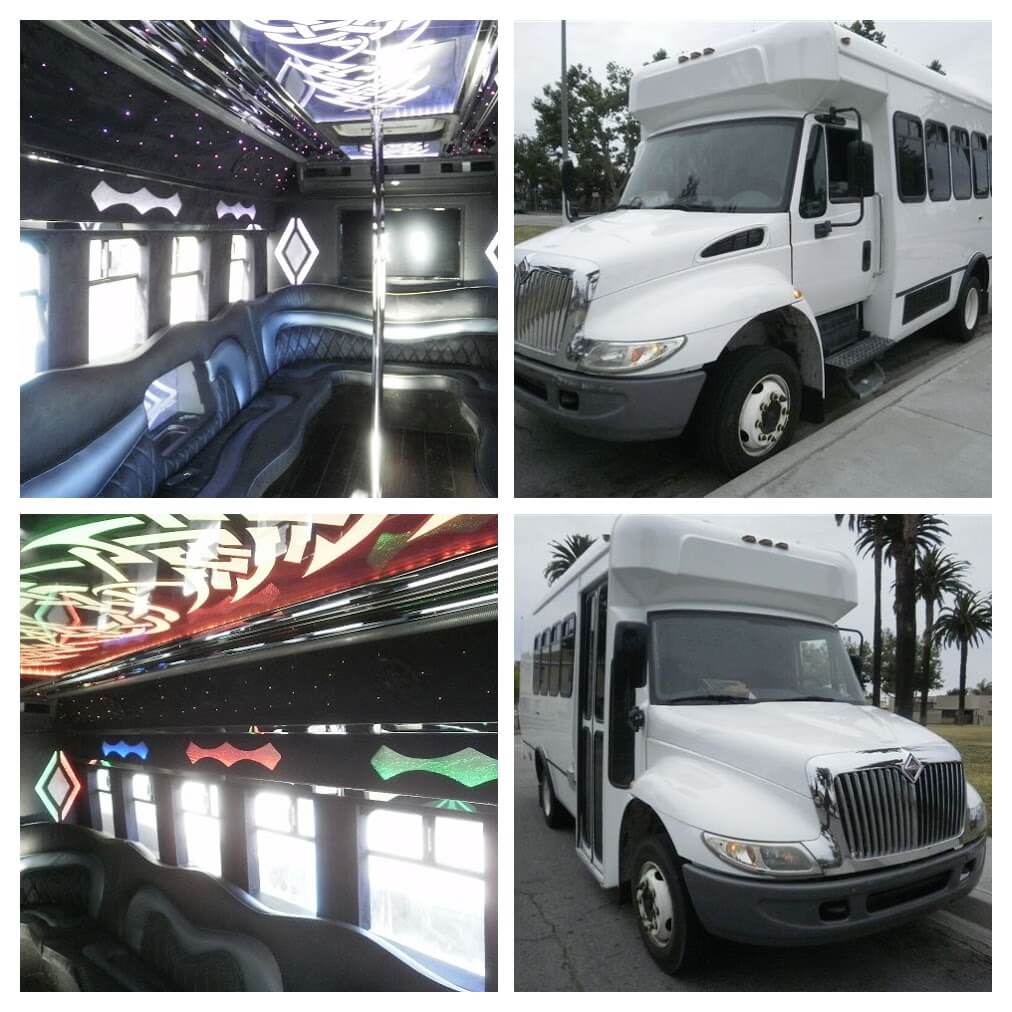 Party Buses For Sale
International bus brand Navistar International is a leading global manufacturer of buses and trucks. It has a reputation of manufacturing high-quality bus and truck chassis. They are both efficient, and affordable. Many institutions including schools and transport firms have made International their bus and truck brand of choice.
The International 3200 and 3400 cutaway chassis are two of the most sought after chassis from this reputable manufacturer. They have excellent performance features.  Make sure you go and check out the Navistar Springfield Ohio Assembly Plant.
They are exploiting the awesomeness of these chassis for numerous limo buses. Built on the International 3200 and 3400 chassis. Looking to buy international limo bus? The 2004 white International 24 passenger bus. Built on the International 3200 cutaway chassis. If you are searching for a International party bus for sale, then contact us today. We bringing you the best in world class limos. Why consider the white International 24 Passenger party bus.
Simply put this bus exceptional regarding performance and style. It is the party bus with a superb and intelligent performance control system. Fuel economy is at varying rations depending on the driver's input. At low revolutions, the engine is amazing regarding fuel economy while at higher engine revs you get incredible power though fuel efficiency suffers.
     A Smart International Party Bus For Sale
Isn't a bus that can vary its fuel efficiency and power out depending on accelerator demand an intelligent one? Surely it is. Get to us today and get this international party bus for sale at a very friendly price.
When we talk of this bus being and intelligent bus, we surely mean it.
It features a multiplexed electrical system which enables one pair of wires to carry command signals for several devices and continuously monitor critical vehicle functions. This allows technicians to quickly pinpoint electrical problems. A new VT 365 engine makes this chassis, even more, juicer.
This engine comes with an Electronic Variable Response Turbo Charger (EVRT) that comes in handy when it comes to the fuel saving and power boost mechanism we pin pointed earlier. The engine also comes with a new Digital Electra-Hydraulic Generation Two (G2) fuel injection technology for improved fuel economy and lower carbon emissions.
It is these two pieces of genius technology that enable the engine to adjust its fuel consumption and power based on the driver's throttle input. The 3200 also features Intuitive Shift control (an International and Allison Transmission exclusive), which allows the engine and the transmission to change transmission ratios in response to driver input, vehicle load, and driving conditions. It comes with a new heavy-duty air suspension system and air brakes that come in handy when it comes to safety and comfort.
     The stylish International limo party bus
The stylish International limo party bus built on this chassis has a lot to offer on the inside. An automatic door and stainless steel entry usher you into its deluxe cabin which is just the best in build and features. The interior is gray/black interior. Posh U-shaped synthetic leather seats capable of accommodating 24 passengers grace this interior. The floor is made from authentic hardwood for that natural feel.
The ceiling is customized to resemble the disco ceiling we have in modern clubs and fitted with star lights. There are two flat screen TV's mounted on the cabin; a 42-inch screen on the rear and a 26-inch screen at the front. Full length mirrored rails, have also fitted on this party bus for passenger safety. Your passengers will surely be thrilled by a partying experience on this party bus. It never falls short when it comes to entertainment and luxury.
A stripper pole, LED lighting, large sized bar with dual champagne wells and ice bins, and a powerful sound system come as additional features. The music system features an upgraded stereo radio with CD/DVD functionality, SD media card, USB, i-Pod functionality. Buy your International Party Bus today, and get to enjoy all that. This international party bus price is tailored to suit your pocket.
Why not give us a call at (310) 762-1710 or text Richard 424-258-5617 for more information. Need limo parts? Let us help you.