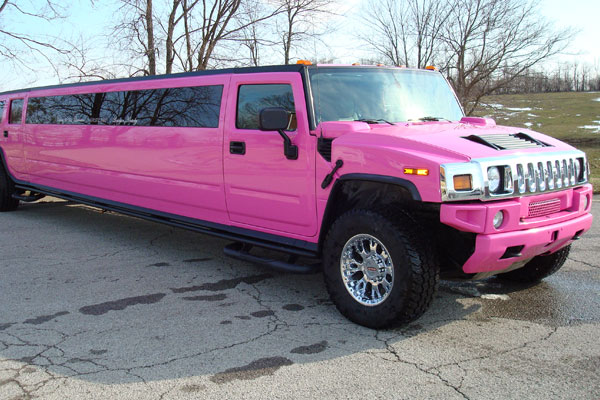 When looking for limousines, you are bound to come across a variety of models from many noteworthy manufacturers. These include an assortment of makes and models that have made these limos as special extended versions of some of the existing passenger vehicles. Stretch versions of traditional luxury cars or SUVs can be found in many instances.
You might be amazed at what you will come across while looking for the best possible limo brands. These include models that are designed by some of the world's top companies. It's certainly intriguing to see what's around as there are more than enough good options for you to utilize when getting to many spots and taking people all around a local area.
One point to note about these top limo manufacturers is that they are companies typically devoted to luxury vehicles. It only makes sense that you're more likely to find limos from such companies, what with the limo being a fancy type of vehicle in its own right.
Chrysler
Chrysler has been one of the most ubiquitous names in the world of American car manufacturing. The company makes high-end vehicles for the most part, what with the Daimler group focusing more of its everyday budget vehicles on the Dodge brand.
The Chrysler 300 is one of the more iconic limos that you can find. The 300 has been made by Chrysler for more than a decade as a strong luxury vehicle. The vehicle has a strong V6 engine and one of the most intricate grilles among vehicles. The refined outside has a classy look with rough edges that blend in perfectly with some dark or metallic colors.
Chrysler has been highly versatile when it comes to making many limo variants of the 300. Chrysler makes limos in this limo that come in sizes from 70 to 140 inches in length. These are made with a vast assortment of seating options as well. The designs on these limos are made to provide you with a great choice for any purpose.
Cadillac
Cadillac is a name synonymous with luxury. It's been that way since the company was formed in 1902. Today General Motors proudly runs Cadillac as a make that places a strong emphasis on quality and detail.
Cadillac has an assortment of great limousine options. The XTS limo is a popular choice that can be extended to about 70 inches. It combines a comfortable seating space with room for seven with an advanced suspension to provide passengers with the best ride possible. Some newer Cadillac limo models come with built-in Wi-Fi plus a color information display that allows for easy control of the stereo system, air conditioning and lighting among other features.
The Escalade has made waves over the years as a high-end SUV from Cadillac. Today you can find an Escalade limo that is 100 inches in length or greater. This clearly has more room than what a more traditional limo offers, what with it having a much taller ceiling. This vast space makes it easier for the limo to have more bar features and larger television sets in its cabin.
The engine on an Escalade limo will vary based on the option you choose. Don't be surprised to find V8 engines on many of these limos, what with such a powerful engine being needed to actually get such a massive vehicle moving out on the road.
Mercedes-Benz
The Mercedes-Benz name has been around since 1926 although the origins of this German company go all the way back to 1886 when Karl Benz created what is believed to be the first gas-powered vehicle. Mercedes-Benz has come a long way over all those years but the company is still synonymous with luxury and class.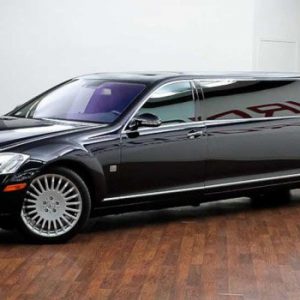 It is no surprise in the least that Mercedes-Benz would be a popular name in the limousine world. The company makes plenty of fancy limos in a variety of sizes although most of them go from the 70 to 100-inch range.
The Sprinter Limo Coach is one particularly noteworthy vehicle made by the company. This limo is actually a limo-bus hybrid. It offers either a J-seat or three-seat arrangement depending on the model. It can handle ten to sixteen passengers at a time depending on the model as well. It's also big on the inside with nearly six feet of standing room and even bus-like doors that make it easier for people to get in and out.
Van Hool
Van Hool isn't as well-known as many of the other makes you've read about here. Still, it's a company that has made waves in the limo industry for generations. This Belgian company has actually been making coach vehicles for nearly seventy years.
The Van Hool limos you can find on the market are actually party buses. These are larger types of limos that are designed with taller ceilings, larger walking spaces, added capacity for people and a better variety of entertainment options. These buses are also made with the intention of transporting people long distances.
The best part of these party buses is that they are built to last. Don't be surprise if you see a Van Hool party bus dating back to the 1990s on the road operating in perfect condition. In fact, some of these Van Hool party buses feature 300,000 miles or more on their engines.
Hummer
This next option is one that is not as easy to find as it used to be, what with the make no longer being made. Hummer was a popular line of off-road and SUV vehicles made by General Motors. The brand was discontinued in 2010 as a means of saving General Motors from bankruptcy.
Hummer made a number of stretch limos when the company was around. These include a great assortment of white, black and even pink limos.
You can still find a variety of Hummer limos on the market to this day. These vehicles are designed with rugged V8 or even V10 engines and well-tuned suspensions to keep their rides steady. These can last for hundreds of thousands of miles as needed.
In fact, the Hummer limos that you can find on the used market today are designed with incredibly long bodies. These often go for about 200 inches in length. These lengths are big enough to where you will get more people into a limo without having to make it all cramped up and otherwise difficult for people to get around in.
International
International is another brand that, like Van Hool, focuses heavily on charter vehicles. It places a strong emphasis on making fine luxury vehicles that can transport large numbers of people at a time. International particularly focuses on making party buses. The choices you can come across when looking for fine party buses from Van Hool are rather varied and should be explored in detail to give yourself a good idea of what to expect from the company.
Some of these vehicles are even designed with truck-like designs.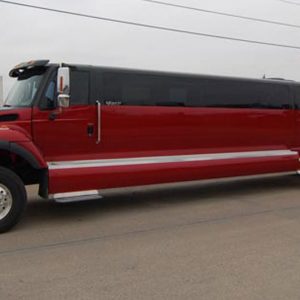 Such party buses from International are especially designed with larger parties in mind. You can fit more than twenty people in one of these party buses depending on the model you order. Of course, the ability that you have for getting all these people in there will certainly be a great point about International buses worth looking into.
These party buses work great if you have plans to pick up large groups of people at airports, convention centers, casinos or other places where large parties might be found in. These buses are made to be easier for you to use when getting people out to big events and should certainly make a real difference when you're aiming to get the most out of a quality vehicle for all these heavy duty transportation demands.
Ford
Ford is one of Detroit's hottest car companies. Ford is famous for offering a variety of vehicles for just about every segment of the population. It's one of the most reliable names in the world of automobiles. After all, it was Henry Ford who perfected the assembly line style of construction and engineered stronger vehicles that were capable of moving people around without any hassles.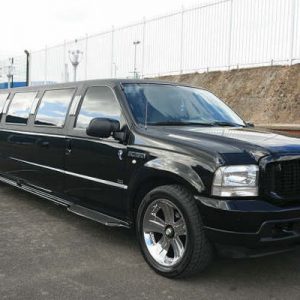 Ford has a good variety of limos to choose from. Are you looking for a fine luxury-style limo? A Crown Victoria limo might be your thing. Do you want a limo that is larger in size for more people? The Excursion SUV is available in an extended limo variant with more interior space.
Maybe you need something even larger when transporting people at longer distances. An E450 limo bus is one such choice that will fit the bill. It offers a great extended body with bench seats and taller ceilings. Separate luggage cases are included as well. The choices that you'll come across are outstanding and will make a real difference as you're aiming to get out on the road.
Conclusion
Are you aiming to find a great limo for your transportation business? Be sure to look at the makes listed here when finding a good limo. These options that come from many of the world's most trusted luxury car manufacturers. You will find a great assortment of different limo choices from all of these companies with many sizes and variations that will fit whatever needs you might hold for such a vehicle.
Be sure to think about how you will use a limo or party bus for your business' needs. The functions that such a vehicle can work with are rather varied and should be explored based on what you know you need to do when getting people around places. The choices are vast but there will certainly be a good option out there that is perfect for the demands you might hold.