'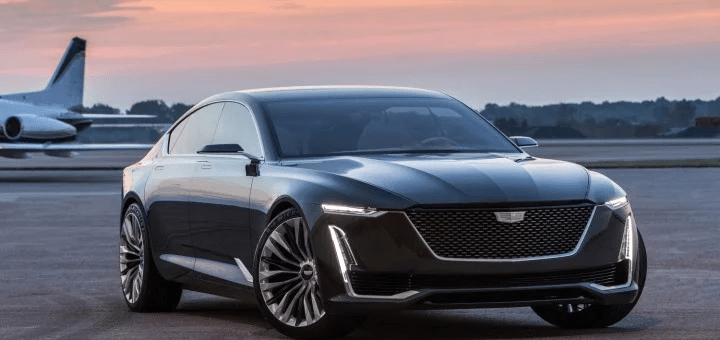 Cadillac Escala Price
Should Reflect the Essence of Luxury
The Cadillac Escala price could be close to $100,000 if mass production begins in 2021. The Escala was introduced at the 2016 Pebble Beach Concours d'Elegance. Centered on innovative technology and luxury features. Enjoy cashmere, fine leather and smooth American walnut interior design in the Escala. This reflects the qualities of a distinctive opulent style. More specific details are coming soon. Several luxury features, now designed for convenience:
•OLED Displays
•Infotainment System
•Hands-free Features
     Concept Car
The Escala has several distinctive Cadillac features, such as the Flying Goddess symbol on a knob inside the sedan. During the 1930's the Flying Goddess symbol was Cadillac's feature. Auto manufacturer place emphasis on special styles and features, which are used to design a concept car.
A flagship car is the top-of-the-line car for an auto manufacturer. The Escala style represents the Cadillac image. The sedan has impressive features. There is the analysis of the feedback from car owners about safety problems. Then we have the repair services. All this for evaluating the quality of a car after mass production.
     Luxury Features
The car has features for comfort and convenience. It has plush seats, OLED displays and hands-free features. Cashmere, fine leather and American walnut inside the Escala invigorates the senses. A tired traveler can escape to a new experience. There is also an option for passengers to watch videos. This can be done on more than one display screen. This helps control conflicts for passengers.
     Hands-Free Features
The hands-free features are activated by gestures and voice commands, which can simplify the driving experience. With a voice command, a driver can initiate a change to a feature inside the car. This can be done without touching a display screen. Even without pushing a button and without turning a knob. The typical hands-free features for most cars are for phone calls and for navigation. Like for navigation via GPS features. The devices are usually connected to an Internet signal via Bluetooth.
     Infotainment System
An infotainment system typically includes features for entertainment for music, such as from a car stereo, and also for videos. You can relax during the driving experience and can also enjoy music from a stereo system. Rear seat video entertainment. The driver can easily focus on driving the car. Hands-free phone call features.
     V8 Engine
Especially when passing other drivers to quickly change your driving lane. This helps to avoid passing an exit ramp on an expressway. The evaluation process for an engine includes driving a car for hundreds of miles.  The crucial information that can be used for evaluating the quality of a car is car owner feedback. Also from managers who work in service departments at the auto dealerships.
     Display Screens
There are several display screens in the rear passenger area for the Escala. You'll enjoy watching videos to control problems from boredom during long trips. Young children can have a more enjoyable experience while traveling to visit relatives. You can use Bluetooth to connect with several devices.
     Cadillac Flagship Car
Professional reputation for an auto manufacturer can be the quality of the features for a flagship car. The Escala has a powerful V8 engine but also has luxury features for elegance and for convenience. There are also features for enhancing the traveling experience for passengers. The future Cadillac Escala price will reflect the investment of luxury features into the car design. Please contact American Limousine Sales for more information about luxury vehicles.